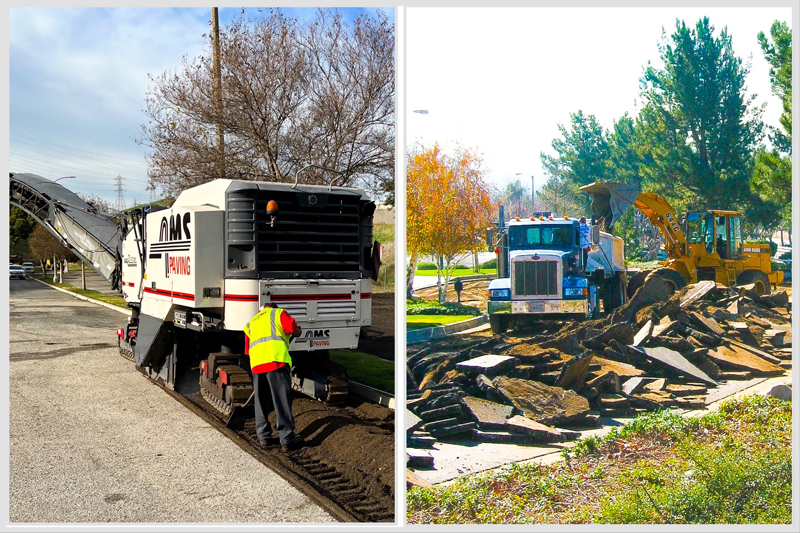 When it comes to installing a new asphalt surface, repairing or replacing existing asphalt, or preparing for major underground construction, removing the old or damaged asphalt is a crucial step in preparing the groundwork for new surfaces or upcoming subterranean projects. Whether you're a business owner or property manager looking to revamp your streets and parking lots, or a project manager overseeing a large-scale development, understanding the methods used for asphalt removal is essential. In this post, we'll explore the most commonly used techniques employed in the construction industry to remove asphalt efficiently and effectively.
Milling or Cold Planing
The best and most commonly used method for asphalt removal is milling or cold planing. This process involves using a milling machine equipped with rotating steel teeth to grind down the asphalt surface, removing the top layer. Milling is typically employed when the existing asphalt needs to be completely replaced, or when the surface is damaged and requires resurfacing.
Milling offers several advantages, including precise control over the depth of removal, the ability to reclaim and recycle the milled asphalt, and the capability to achieve a smooth and uniform surface suitable for subsequent construction. This method allows for a fresh start by removing all existing layers, ensuring a stable foundation for future construction.
Excavation
In cases where the asphalt layer is thick or damaged extensively or the area needs to be cleared for major construction, excavation can be used for extraction. Excavation involves the use of heavy machinery, such as excavators or loaders , to dig up and remove the asphalt along with the underlying soil or base material. The process is highly effective at removing asphalt and layers beneath to prepare the site for the major sub-grade construction, such as large-scale plumbing and electrical projects, or building foundations.
Asphalt Recycling
In recent years, sustainable practices and environmental considerations have gained significant importance in the construction industry. Asphalt recycling has emerged as a popular method that not only reduces waste but also conserves valuable resources. As it stands, asphalt is the most recycled product (by weight) in the United States with close to 80 million tons being recycled each year and almost 100% of that being reused.
Asphalt recycling involves grinding the existing asphalt into small pieces, which are then mixed with new materials to create a recycled asphalt mix. This mixture can be used for various applications, including new asphalt pavement or base layers. Recycling asphalt reduces the need for virgin materials, minimizes landfill waste, and offers cost savings while maintaining the desired quality and durability.
Conclusion
Understanding the different methods of asphalt removal in the construction industry is vital for successful project planning and execution. Whether it's milling, resurfacing, excavation, or asphalt recycling, each technique serves a specific purpose based on the condition of the existing asphalt and the desired outcome.
By leveraging these methods effectively, construction professionals can ensure a solid foundation for future construction, improve the longevity of asphalt surfaces, and contribute to sustainable practices within the industry.